---
About Anne Fraser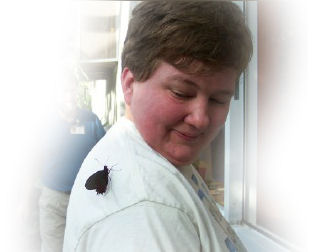 Anne Fraser (1957-2008) liked to say that Friday the 13th was her lucky day--she was born on one, and she played the part with enthusiasm. Anne's collection of vampire memorabilia was featured on the cable television show I (Heart) and she was a charter member and served on the executive of the Toronto chapter of the Transylvanian Society of Dracula (TSD). She sometimes dressed up in a full tuxedo and flowing opera cape, and spent one New Year's Eve regaling partiers on the streets of Toronto in that finery.

Sometime in the 1980s, Anne was shown a Dark Shadows comic book and said, "I can write a better vampire story than this." She was making a severe understatement. Anne went on to become a prolific, and highly original, writer. She was constantly composing new stories featuring her "Cast of Dozens." But Anne's greatest joy was collaborating on stories with other writers, producing multi-chapter epics involving anywhere from one to a dozen other people and their characters.

Anne attended the Dracula 1997 centenniel conference in Los Angeles, where her poem, "Dracula Versified," won third place in the creative writing competition. In 2005, her short story, "Shell Shock," won second place in the Creative Writing Contest for the Toronto TSD chapter's 10th Anniversary celebration. Her novel, Gideon Redoak, was published in August, 2009. Two more volumes of Anne's fiction are in production.

Although Anne lost a courageous battle with cancer in April, 2008, she will live forever in the memories of her friends and through her lively and entertaining fiction.