---
All Places That Are Not Heaven
Tales of Adrian Talbot and Genevieve de Monet
"...when all the world dissolves,
And every creature shall be purified,
All places shall be hell that are not heaven..." ~ Christopher Marlowe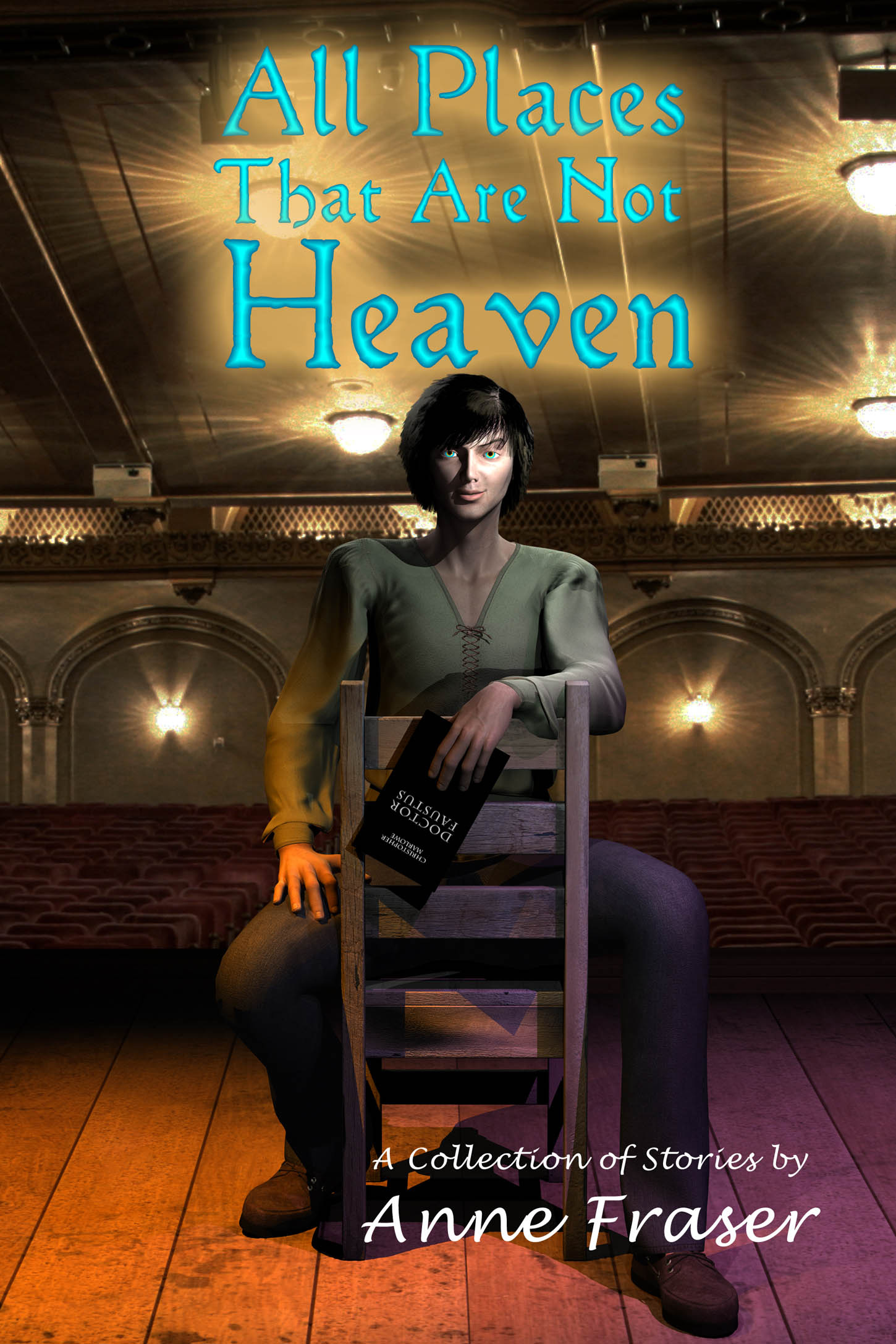 Adrian Talbot is among Anne Fraser's most morally ambiguous, disturbing and colorful creations. A contemporary of Shakespeare, Adrian was the son of a prostitute who was put to work in a brothel himself as a child. A gift for acting and a strikingly beautiful face helped him escape that sordid world, assisted by the mentorship of playwright Christopher Marlowe and Adrian's own pride and ego. In 1600, as plague rages through London, Adrian approaches a wealthy but mysterious aristocrat on behalf of his theatre troupe, who need a patron so they can leave the city. The nobleman is one of several vampire elites in London, who agrees to patronize the troupe if bisexual Adrian will become his bondslave. Soon Adrian is a vampire himself.

Anne introduced Adrian to her readers in a series of stories set in present-day Toronto, where Adrian Talbot poses as a professor at the University of Toronto. He becomes involved with a grad student, Jake Fowler, who pays an unexpected price for agreeing to help Adrian establish himself as master vampire of Toronto (or so he thinks).

In "Speak Easy," Adrian falls in love with a mobster in 1920s New York City, and finds a surprising way of disguising their relationship. Anne once called this story "the best damn thing I ever wrote."

The final two stories in this collection focus on Genevieve de Monet, familiar to readers of Gideon Redoak as Gideon's savior, mentor and dearest friend. Here we learn a bit more about her life apart from the Brotherhood of Darkness.

This second volume of Anne's short fiction offers readers a wider view of her complex and vivid fantasy universe.

Stories:
"The Rosedale Vampires"
"Vampire Blues"
"Vampire Conventions"
"Acting's in the Blood"
"Speak Easy"
"Watch and Ward"
"A Babe in Arms"

Read the first chapter
(Requires Adobe Reader)
Paperback, 274 pages, $14.00
Hardcover, 274 pages, $30.00
All ebook editions, $4.99
ORDER PRINT BOOKS DIRECTLY FROM BY LIGHT UNSEEN MEDIA
Pay via PayPal or use a credit card
(PayPal account not required)
---
No credit card? No broadband? No problem!
Print or download a mail-in order form to buy print books or ebooks on CD with a check or money order.

Mail Order Form
Right-click link to download (PDF)
---
SUPPORT YOUR LOCAL INDIE BOOKSTORE
By Light Unseen Media's books are available to retailers from Ingram with standard discounts and return policies. Ask your bookstore to order your copies!
---
ORDER A BOOK FROM THESE ONLINE RETAILERS
Barnes & Noble.com (hardcover, paperback, Nook)
Kobobooks.com ebook store
Google Play Store (ebook)
Apple iTunes Store (ebook)
Amazon.com (hardcover, paperback, Kindle)