Well, Steve Jobs made a liar out of me–and I'm very happy about it. By Light Unseen Media's titles are available in the iBookstore for download onto the iPad, after all. We were in the iBookstore when it launched on April 3, and here's the proof: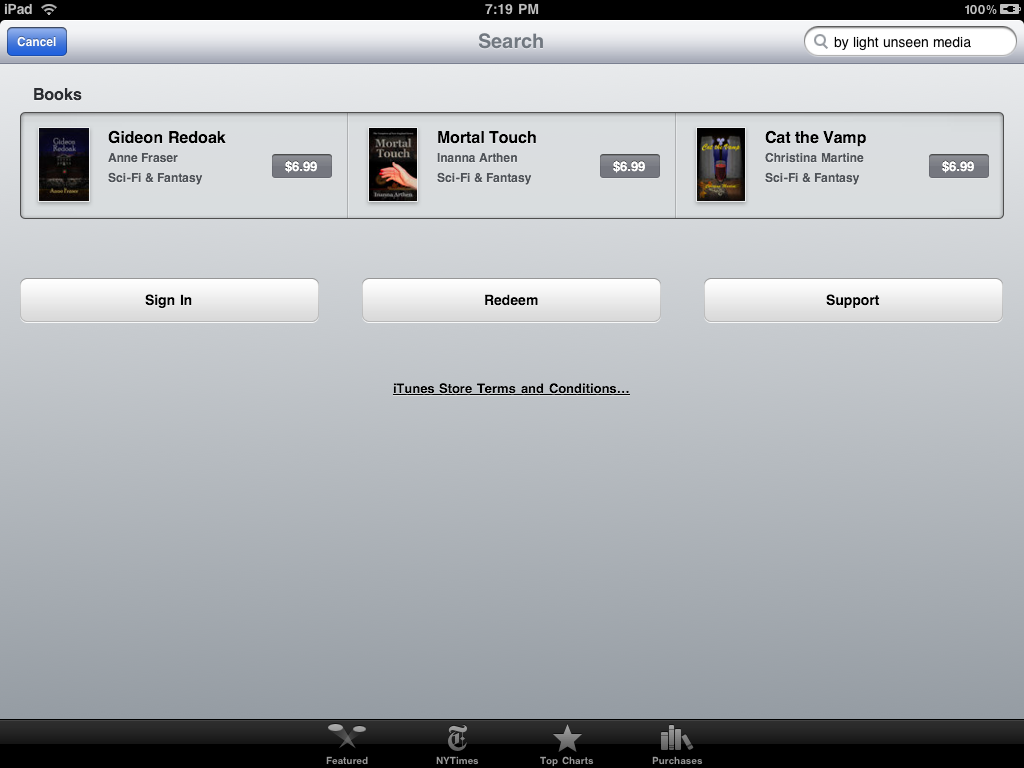 On this blog back in February, I proclaimed my abandonment issues with Apple, Inc. I'm not the only old-timer to write at length in recent weeks about Apple's corporate ideology ever since 1984 (an iconic year, to say the least, for Apple to switch from their former open box platform to a rigidly closed and controlled system). Cory Doctorow explained "Why I won't buy an iPad (and think you shouldn't, either)", agreeing with me on just about every point, even our fond nostalgia for the pre-Macintosh Apple II series. (If I'd known I had so much in common with Cory, I'd have been less shy about talking to him when I met him at 3Pi-Con!) Tim Wu published an essay on Slate, "The Apple Two," detailing the history of Steve Jobs, Steve Wozniak, and how the company they founded came to be what it is today. All of this has huge relevance to publishers, authors and readers everywhere given where the publishing industry is headed, but that will be an ongoing topic.
Having gotten the grumbling out of my system, after I made that post, I sent an email off to the only contact I could derive from Apple's website, their Developer department. I received a reply giving me the contact information for the iBookstore. I emailed them. After that, I didn't hear anything further, and in the meantime, the whole "agency pricing model" wrangle with Amazon and Macmillan was going on, and the other Big Publishers (all but Random House, still holding out at this writing) were signing up with Apple, and I saw a rumor somewhere that Apple had posted a job opening for an iBookstore liaison for small publishers. But the April 3 launch date was approaching fast, and it didn't appear that Apple was going to have infrastructure in place to add thousands of books from hundreds of small publishers by then, even if they planned to eventually do so.
On March 30, I got an email from Mark Coker, founder of Smashwords. He'd been playing things pretty close to the vest–and given the volatility around the whole launch of the iBookstore and the dust-up with Amazon, it's no wonder–but he was announcing, initially just to his own clients, that Smashwords had just signed a deal with Apple to supply titles to the iBookstore. Apple had a package of firm guidelines, including pricing formulas, strict compliance with ePub standards and the requirement that every title have a unique ISBN. To meet those guidelines, Smashwords had become an ISBN reseller like Lulu and a few other companies, selling individual ISBN numbers to authors who needed and wanted them. We had about 48 hours to bring our titles up to Apple's standards and make the first shipment to the iBookstore, which would happen in time for its launch.
Fortunately, BLUM's titles were all ready to go, ISBNs and all–except for Apple's rule that all prices must end in .99. I had decided to set "round" prices a while ago for several reasons and now I had to drop all the Smashwords editions by one cent. But when the 500-pound gorilla is being that friendly, I'm not going to balk at a little concession or two. On April 1, Smashwords announced that it had shipped BLUM's titles in the first big batch to Apple.
But here I ran into a stumbling block: I had no way of verifying that our books were in the iBookstore, because I didn't have an iPad. The iBookstore can't be accessed online–you can't even look up what's in its catalog (as far as I've been able to figure out, anyway–and I have iTunes). You must have an iPad to see it. After I'd spent several days in suspense hoping to connect with an iPad early adopter, I finally realized that I could probably view the iBookstore on one of the demo iPads at the brand new Apple Store in Pheasant Lane mall in Nashua, New Hampshire. And so I went up there, on April 6, and found all of BLUM's active catalog in the iBookstore. I'd like to publicly thank the very helpful Sales Assistant, Ashley, who not only helped me with the iPad but emailed me a screenshot of the bookstore, on the spot, right from that demo iPad. (Our newest title, Krymsin Nocturnes, shipped to the iBookstore on April 6.)
Since then, Apple has signed with a number of other ebook aggregators, including several that carry BLUM's books. If you own an iPad and prefer to read the Kindle edition or the Kobo edition, you can get those on your iPad, too. Apple doesn't seem to be choosy about big name publishers or mainstream books, either. Many of these aggregators carry thousands of self-published titles, with all the, shall we say, diversity of quality control standards those display. As long as they meet Apple's specifications, Apple will offer them all.
So, Apple: I have to take back some of what I said. You are carrying independently published books and your customers can read them on their iPads. That's great! Accept a virtual handshake from one of your new partners, By Light Unseen Media. The iPad is a nifty little device, and if I had hundreds of dollars of play money burning a hole in my pocket (alas, I don't) I might buy one. (What is more likely is that I will pop for the "developer" license fee so I can get multi-media content onto Apple platforms. That's a bit further down on the To Do List at the moment, though.) It will be interesting to see where things go from here.