---
Un-Dead TV
The Ultimate Guide to Vampire Television
Updated and Expanded Second Edition!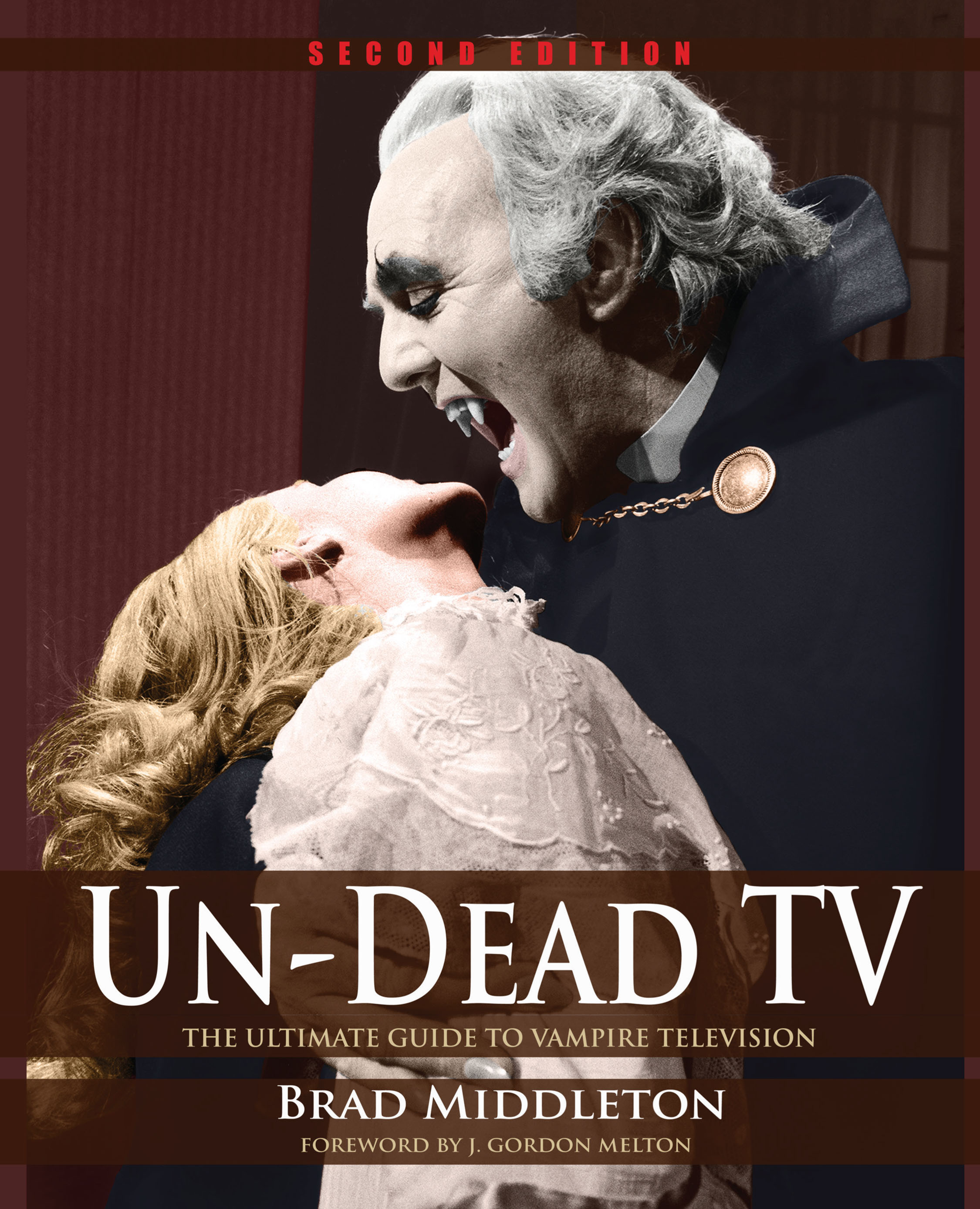 Today, vampires are ubiquitous in our popular culture. From movies to television, in fiction and in art, and even within the hallowed halls of academia, these preternatural creatures of the night are turning up everywhere. But in the not-so-distant past, vampires evoked more fear than fascination; they lived in the shadows and were the stuff of nightmares. Our concept of them was forever changed with the publication of Bram Stokerís Dracula in 1897.

Bela Lugosi, whose iconic portrayal of Stokerís vampire was a hit on both the stage and screen, appeared in 1949 on one of the first televised variety series, The Texaco Star Theater. In the guise of his most famous role, Lugosi brought the vampire into our living rooms, heralding an undead presence on TV that steadily increased before skyrocketing with the arrival of Buffy Summers to Sunnydale, California.

The medium of television, in turn, has played a critical role in the evolution of the vampire; these fanged fiends have become as diverse as the population that they prey upon, and every generation creates their own interpretation. For over sixty-five years, the undead have bled the TV airwaves, rising from the crypt in all manner of programming. In this expanded and updated second edition, Un-Dead TV catalogues over one thousand such appearances, and is the only book of its kind to explore this phenomenon to the extent that it truly deserves.
"Un-Dead TV is an amazing work, a vampirologist's dream resource book. From page one to the very end, even the most educated vampire researcher and knowledgeable fan alike will learn details on vampires in television's history. Author Brad Middleton truly lives up to the book's subtitle 'The Ultimate Guide to Vampire Television' as he covers everything from Dark Shadows to cartoons and obscure vampires you may never have heard of. Without a doubt it belongs in the library of anyone who is fascinated by vampires!"
E.R. Vernor "Corvis Nocturnum"
author of Allure of the Vampire: Our Sexual
Attraction to the Undead (Dark Moon Press 2009)
and Vampire Evolution: From Myth
to Modern Day (Schiffer Publishing 2014)

Read the first chapter
(Requires Adobe Reader)
Paperback, 556 pages, $33.00
Hardcover, 556 pages, $44.00
ORDER PRINT BOOKS DIRECTLY FROM BY LIGHT UNSEEN MEDIA
Pay via PayPal or use a credit card
(PayPal account not required)
---
No credit card? No problem!
Print or download a mail-in order form to buy books with a check or money order.

Mail Order Form
Right-click link to download (PDF)
---
SUPPORT YOUR LOCAL INDIE BOOKSTORE
By Light Unseen Media's books are available to retailers from Ingram with standard discounts and return policies. Ask your bookstore to order your copies!
---
ORDER A BOOK FROM THESE ONLINE RETAILERS
Amazon.com (paperback)
Amazon.com (hardcover)
Chapters / Indigo in Canada (paperback)
Read what reviewers are saying about Un-Dead TV...
"Un-Dead TV is a treasure-trove of useful information on its subject matter, and author Middleton has gone the extra mile (or fifty extra miles...) in terms of tracking down obscure TV series and providing relevant and important data about specific episodes...But the book's glory -- as is often the case in terms of reference books -- is not merely the impressive breadth of coverage, but rather the well-considered organizational structure of the material...I wholeheartedly recommend this book if you enjoy reading about vampires on television, or if you are an author writing about those subjects. Un-Dead TV is an invaluable resource, and one that will find prized real estate on my office shelf."
John Kenneth Muir, August 30, 2013


"...a broad, 30,000-foot view of vampires on TV, covering everything from the first appearance of a vampire on TV ó in the form of Bela Lugosi appearing as Dracula on The Texaco Star Theater in September 1949 ó right up through recent bloodsucker appearances in 2013...Un-Dead TV fills a previously empty research niche, and provides lots of browsing entertainment. Vampire lovers and scholars should find much to like in these pages."
Twilight Ridge, August 5, 2013